What is the difference between C4 Juniors and the Cabarrus Cog Crushers?
C4 Juniors is what we call the organization for all of the kids, regardless of age, and allows us to ride as a group year round. The Cabarrus Cog Crushers is the co-ed middle and high school mountain biking team sanctioned by the NCICL and NICA that runs from October through June. Each group is under the umbrella of the Central Carolina Cycling Club (C4 Cycling, Inc), which is a registered 501c3 non profit corporation. See this document for an explanation of how this all fits together. <top>
What is NCICL?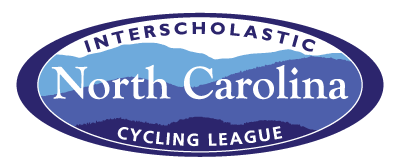 http://www.northcarolinamtb.org/
The North Carolina Interscholastic Cycling League (NCICL) is a non-profit organization that is governed by the National Interscholastic Cycling Association (NICA). NCICL was chartered in 2015, and the League's first official season was 2016-2017. During the 2019 season, we predict over 800 registered student athletes across the state and over 30 official teams. The NCICL mission is to enable every North Carolina teen to develop a strong mind, a strong body and strong character through lifelong participation in cycling. We:
Fill a niche for students whose needs may not met by traditional interscholastic sports
Get kids outside
Welcome and support diversity in ability, ethnicity, gender, orientation, and skill level
Promote trail-building efforts and environmental awareness
Improve focus and academic performance in our student-athletes
Promote health & fitness in teens & their families
What is NICA?

http://www.nationalmtb.org/
The National Interscholastic Cycling Association (NICA) is a character building organization focused on:
Inclusiveness
Equality
Strong Body
Strong Mind
Strong Character
NICA has been around since 2009, when it was originally established in northern California. NICA's sole purpose is to develop mountain biking as an interscholastic club sport for high school and middle school students in every state. As of this year, there are 21 leagues in 23 different states, with more than 15,000 student-athletes, 750+ teams, and 6500+ coaches. <top>
What is the difference between a composite team and a school-based team?
School-Based Teams:
Comprised of full-time students from the same high school or middle school, public or private. School-based teams can be "official" or "unofficial".
Composite Teams:
Comprised of full-time students from more than one high school within the same district or other geographic proximity. Composite Team Limitations: Composite Teams are intended to be temporary solutions for building school-based teams. Riders may only score for a composite team for a maximum of 2 years. In addition, if a composite team has 5 or more students from the same school, those students will be scored separately from the rest of the composite team unless a petition to do otherwise is approved.
Cabarrus Cog Crushers is a Composite team. This will give all of the students who want to ride and participate an opportunity to do so in a team atmosphere if your school does not have an officially sanctioned team. We hope to be the seed that allows scholastic mountain biking programs to develop and flourish in Cabarrus county and the surrounding area. <top>
Who is eligible to join?
All students districted to a Cabarrus County middle or high school are eligible to join regardless of whether they attend a Cabarrus County school or not. Additionally, homeschooled students and those from surrounding areas such as parts of Union, and Stanley counties are eligible to join if there is not a composite team in their area or a school team at the school they attend. <top>
When does the NICA season start?
Although the official season starts December 1st and runs through the end of May, we will host several trail rides in October/November, as well as a trail building opportunities and education events at a local bike shop. All pre-season events in are open to returning and new/potential/interested student-athletes. <top>
What equipment is needed for the season?
A mountain bike and helmet. The mountain bike needs to have knobby tires (vs slick tires like a road bike), and cannot have bar ends. We also require each student-athlete to carry a tube and pump in case of a flat. It is also important to have a water bottle and water bottle cage on the bike and/or hydration pack so the student-athlete can stay hydrated. Lastly, we require a strong front light and rear red light for winter practices. If you need a recommendation on a light, please let us know. We encourage that the light be a minimum of 500 lumens. <top>
What are the costs associated with the season?
NICA's Student athlete registration fee: $210.
C4 Juniors' group fees: $25.
Equipment ($0-$1000+, one-time) – mostly for a bike, if you do not already have one
If racing, the following is also required:
Race Registration fees: $40/race (5 races/season but you do not have to race in them all), plus travel costs for races (e.g. gas, lodging/camping, food)
The costs may be an issue for our family, are there resources to help?
Absolutely. We (and the league) never want fees and/or the cost of equipment to be barriers to participating with the team. There is always a way for your child to participate. Just contact one of the primary coaches to confidentially discuss. <top>

When/where are practices?
Weekday practices are Monday and Thursday from 6-7:30 PM at Harrisburg Park 191 Sims Parkway, Harrisburg, NC 28075. Our weekend practices will be at various locations such as Brown Mill Trail, Sherman Branch, Rockery River Trail, Salisbury Community Park, Uwharrie National Forest, Lake Norman State Park. Weekend practices are dependent on coach schedules and weather.
The coaching staff reserves the right to change the schedule and we will notify all student-athletes of the same. For both weekday practices and trail rides, we ask student-athletes to arrive approximately :15 early to get ride ready, shoes on, tires pumped, and bottles filled. <top>
Does my student-athlete have to attend every practice?
No. We do request that every student-athlete attend practices as regularly as possible. We recognize student-athletes may have conflicts with other sporting/personal activities. The more regular a student-athlete attends Cog Crushers' practices, however, the quicker the student-athlete will learn skills taught, gain confidence on the bike, obtain needed fitness for races – and also bond with other teammates. <top>
My student-athlete is new to mountain biking or does not have a lot of trail experience. Is that OK?
No problem. We have athletes ranging from those that are brand new to trail riding to those that race competitively. While we often introduce / work on skills in groups, we also break up by ability whenever necessary so that all athletes are coached to their skill level and endurance. This is particularly true on the weekend trail rides. <top>
My child wants to ride, but does not want to race or is not sure. Can he/she still be on the team?
Yes! Everyone is welcome on the team, regardless of whether they race or not. The primary focus of the organization is youth development, not winning. While the majority of our athletes raced at least once last year, we had several who chose not to or were not able to race. Everyone is valued as a team member, whether they race or not. <top>
My student-athlete (or I) would like to try it out before committing, Is that possible?
Yes. During the preseason all you need to do is fill out the waiver for all participants (parents and athletes) and join the events. If the season has already begun, the waiver may be used for one-time participation after which formal registration is required to continue. The waiver may be found here: https://app.hellosign.com/s/GUoBgIVw
I am interested in coaching, can I join the coaching staff?
Absolutely. The more coaches we have available, the more individualized attention we can provide our student-athletes. Volunteering as a coach also gives you something to do while your athlete is on the trails and gives you a workout too! All coaches are required to register with the league ($25), obtain a background check (~$39 first time, $11 every year after) and take on-line courses in both concussion training and risk management (free). <top>
What if I would like to coach, but do not have much experience or am not a very fast rider?
No problem. Just as we have student-athletes of varying abilities and strengths, so too do the coaches. There are also many on-line and hard copy resources we can direct you to if you want to read up on coaching mountain bike skills and/or coaching the teenage athlete. <top>
I would like to volunteer, but am not a rider. Is there a place for me?
Of course! We have many places you can help from managing social media to developing and managing our sponsors to being the team photographer. Just let us know what you are interested in doing – or ask us what we need! <top>
I would like to sponsor the team or an athlete in need. How do I do that?
That is great news! Just contact one of the coaches above to discuss how you would like to be involved. We have various levels of team sponsorship available with corresponding recognition and we gratefully accept offers to sponsor students in need of help with fees and/or equipment. <top>
How do we stay in touch, where can I find updates?
We utilize our C4 Juniors/Cabarrus NICA Facebook Group, and the smartphone app TeamSnap. Please contact any of our coaches to be added to the list.
Still have a question?
Please send us an email at This email address is being protected from spambots. You need JavaScript enabled to view it.